Brian Hogan from O Loughlin Gaels GAA club gives us an insight into his experiences in the National hurling league from his very successful career and a preview of the upcoming National hurling league.
SportsTalk: Who do you think will win Division 1A and 1B?
Brian Hogan: Kilkenny & Clare
ST: Who do you think will be overall winners of Division 1 hurling league?
BH: Kilkenny
ST: Who do you think will be top scorer in Division 1 league?
BH: TJ Reid
ST: Who do you think will be named player of the Allianz National hurling league?
BH: Tony Kelly
ST: Who do you think will get relegated from Division 1A?
BH: Dublin
ST: Who do you think will win the National football league Division 1?
BH: Dublin
ST: Give a brief summary of how you see the Division 1A and 1B panning out.
BH: It's going to be business as usual for Kilkenny and they're not going to be far away from the final when it comes down to it. I feel that it's going to be an important league campaign for both Clare and Galway. With Donal Og in situ in Clare, the confidence is high, but after two dismal seasons the pressure is on to start putting a consistent run of results together. Playing in Division 1B will allow them to build slowly and try different players out with less pressure than playing in 1A. There'll be a lot of pressure on the Galway players to produce a strong performance in 2016 after ousting their manager and it will be interesting to see how they perform in the league. I'd expect a strong league from them also. Cork and Waterford will look to build & strengthen their team and panel's respectively and anything after securing Division 1A status will be a bonus. I think that Dublin will struggle this year with some of their senior players not what they were and the loss of one or two of their younger stars. Tipp will be close as always but it's hard to know how they will approach the league with new management at the helm. They'll certainly be competitive and having not performed to their potential against Waterford last year they may feel that they have unfinished business.
ST: What did you think about playing in the National Hurling League?
BH: I loved it. I always looked to build form and fitness as we progressed through it. You learned a huge amount about yourself and the squad, in particular from the away games. Travelling to Thurles, Salthill or Ennis and getting a result always meant you were in a good place.
ST: When was your national league debut, who was it against and how did it go for you?
BH: I played against Offaly in 2004 I think. It was a nice introduction to the league. I had come off the back of an All-Ireland club campaign so my hurling was sharp and I came into a strong team that had won an All-Ireland the year before. I think we won comfortably.
ST: Which ground did you least prefer playing in the National League. Explain why.
BH: I didn't enjoy playing in the Gaelic Grounds. Dressing rooms were tiny and cramped, weather was always miserable. Games were always a slog and we never really flowed down there.
ST: Which team do you think this League is the most important for? Explain.
BH: Probably Cork or Clare. Clare need to start showing some form and putting in some performances or the confidence & optimism from Donal Og joining the back room team will disappear very quickly. Cork need to find players for some key positions and build some strength in depth if they are to challenge in the championship this year. If they don't then it could be much of the same inconsistency from them again.
ST: What's your best memory from the national hurling league?
BH: Beaten Tipperary in Nowlan Park to win the league in 2013
ST: If you could sign 3 players from other counties for your team, who would you sign and why?
BH: Tony Kelly – Just an exceptional talent on his day.
Joe Canning – Again he's just a potential game winner and I think we would see the best from him in a stable set-up like Kilkenny.
Brendan Maher – great attitude and a great competitor. Just goes about his business be it in midfield, half back or half forward with little fuss but with huge work rate.
ST: What was your least favorite memory from the league?
BH: Breaking my collarbone after 20 minutes in the 2009 league final in Thurles.
ST: There has been a lot of talk in the media recently about player burnout, a GAA calendar that is unfair on clubs, getting rid of the under 21 competitions, combining the League and Championship to shorten the year for inter-county players etc. What are your opinions on all this and what changes would you suggest to the structure of the GAA calendar?
BH: I definitely feel that player burnout is a huge concern amongst the 17-21 year olds. Luckily in Kilkenny common sense tends to prevail more often than not but I think too much is left to the players to decide and hence they are put under pressure from managers. Croke Park needs to put the rules in place and enforce them otherwise players will always play every game due to the pressure put on them.
Without going into detail on everything, I agree with the recent recommendations to Central Council that the minor grade should be replaced by an U-17 championship and the U-21's by an u-20's.
Fitzgibbon players should not be allowed to train with county teams until they have finished college competitions.
The club/county situation needs to be addressed also. I think in Kilkenny we have a set-up that is as good as is out there but we're all aware of situations where counties knocked out of championships in July still can't have their club championship complete by September or where no club match is played for the summer because the county manager won't release them. This is ridiculous and needs to be tackled.
The county season could certainly be shortened. In addition to this if a county has any more than 3 weeks between matches they must release players back to clubs for a week. Counties should not be allowed to suspend club matches for the summer. This could be done by reviewing the fixture calendars at provincial level under guidance from Croke Park.
Again Croke Park need to take the lead as there are too many vested interests at county and provincial level.
ST: Is the general standard of hurling improving or getting worse?
BH: It's definitely improving. You just have to look at matches in 80/90's compared to now. I think that the games are faster now, the players are fitter & in general they're more skillful now. 
ST: Favourite Box set:
BH: Escobar
ST: Favourite movie of all time:
BH: Usual Suspects
ST: Favourite song to listen to before a match
BH: Let's Go – Calvin Harris
ST: Toughest opponent:
BH: Martin Comerford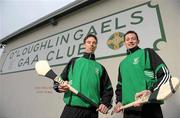 ST: 3 young players from your club to watch out for:
BH: Paddy Deegan, Sean Bolger, Huw Lawlor
ST: 3 things you would bring with you to a deserted island
BH: Hurl, ball & iPad (has all my music)
ST: Medal you most cherish in hurling
BH: 2001 county final medal/2011 All Ireland (can't decide)
ST: What did you love most abut been an inter county hurler:
BH: Teammates
ST: What did you dislike most about been an intercounty hurler:
BH: Impact on friends and family
ST: Fav holiday destination:
BH: New Zealand
ST: Fav soccer team:
BH: Man Utd
ST: Laziest team-mate you played with:
BH: Eoin Reid
ST: If you could be someone else for one day who would you be
BH: Tom Brady
ST: Other sports you have played:
BH: Soccer
ST: Most annoying person on tv:
BH: Ray Darcy
ST: 3 people you would like to go to dinner with:
BH: Conor McGregor, Odell Beckham & Barack Obama
ST: Favourite dinner:
BH: Roast Chicken
ST: What age do you think you will retire from club hurling:
BH: When I feel my body can't do what my mind wants it to do.
.